Eleven years old, but this taco is still just as crispy as ever!
Some days we all end up getting crispy on the soccer fields!
So . . . eleven. After the past few years of huge changes, I feel like this year has slowed down some. No big transformations in appearance or personality. No upheavals in schoolwork or extracurricular activities. Lydia has had a smooth, steady eleventh year.
The jury is still out on whether this is the new normal or the upcoming jumps to 12 (and 13!) will be a wild ride. Guns at the ready.
So let's start with school. Fifth grade is now done and in the books, and that is it for elementary school! Still homeschooling? Yup. Still loving history and science? Absolutely. Still reading all the Warriors books she can get her hands on? Of course.
Science was back to Life Science, which we last studied in first grade. This version of Life Science was basically sixth grade work: a lot of vocabulary, as much labs as we could find time for, and a fair amount of writing. We invested in a fantastic compound microscope for this class, and Lydia put it to good use.
If Lydia wasn't working on school or reading in her room, she most likely was at soccer practice. This year she played soccer through BUSA's Academy program, which is a step above recreational but not quite competitive. She had to step up her game to keep up with her teammates. By the Spring season, she was quite the soccer player! I have been very impressed with how much she has improved.
Thankfully, the higher training level didn't intimidate Lydia much. She still loves all things soccer and is already counting down the weeks until Fall season starts.
Just this past week we watched the Women's World Cup together. What a great tournament! Lydia has already spent her birthday money on a Rapinoe soccer jersey. Hopefully it will be delivered later this week.
Last fall during the midst of soccer, school, and all other Things of Life, Lydia's Uncle Kevin got married! Stephanie fits in perfectly with our family. She even joins in with some of our school science experiments! Both kids had a blast as part of the wedding party, and I am super pleased with all the lovely pictures!
We were able to fit a few trips into our busy schedules. Barely a week after the wedding, we were off to the beach. We stayed in a truly fantabulous condo this year, and Grandma and Papa also came! With an entire week at the beach, we had a lot of time for crab hunting, pool swimming, sand digging, and we even took a day trip to Pensacola! Sam still remembers this as the Best Beach Trip Ever.
Last spring we took a long road trip up the east coast through Virginia, then further north to Pittsburgh to visit friends. While in Virginia we visited Monticello and Mount Vernon, two places Lydia has been wanting to see for years. She is Mommy's Little History Buff.
Don't let Sam's face fool you. He's perfectly fine to smile for pictures but he really didn't care whose house it was.
At Mount Vernon I think her favorite thing was the cows.
We also managed to get a rare family portrait on George Washington's front porch.
While in Pittsburgh, we wandered around town with Ken and Lisa to check out the sights. Lydia was most impressed with the Natural History Museum and the Aviary (birds birds birds!).
I was mainly impressed with how well the kids handled the 12-hour drive back home!
If you ask Lydia what she wants to be when she grows up, right now she will tell you "an ecologist, but one that just helps animals . . . not plants." She plans to travel all over the world, helping animals in their environment and combating the scourge of pollution and climate change. However, once every four years she will have to take a break from ecology so she can play in the World Cup.
For Christmas she got a set of metal reusable straws. When I pack her a lunch I have to use her reusable ziplock bag things. She is quick to point out when I am not paying attention and accidentally throw something away that should go in the recycling bin. She is saving the earth, one plastic straw at a time.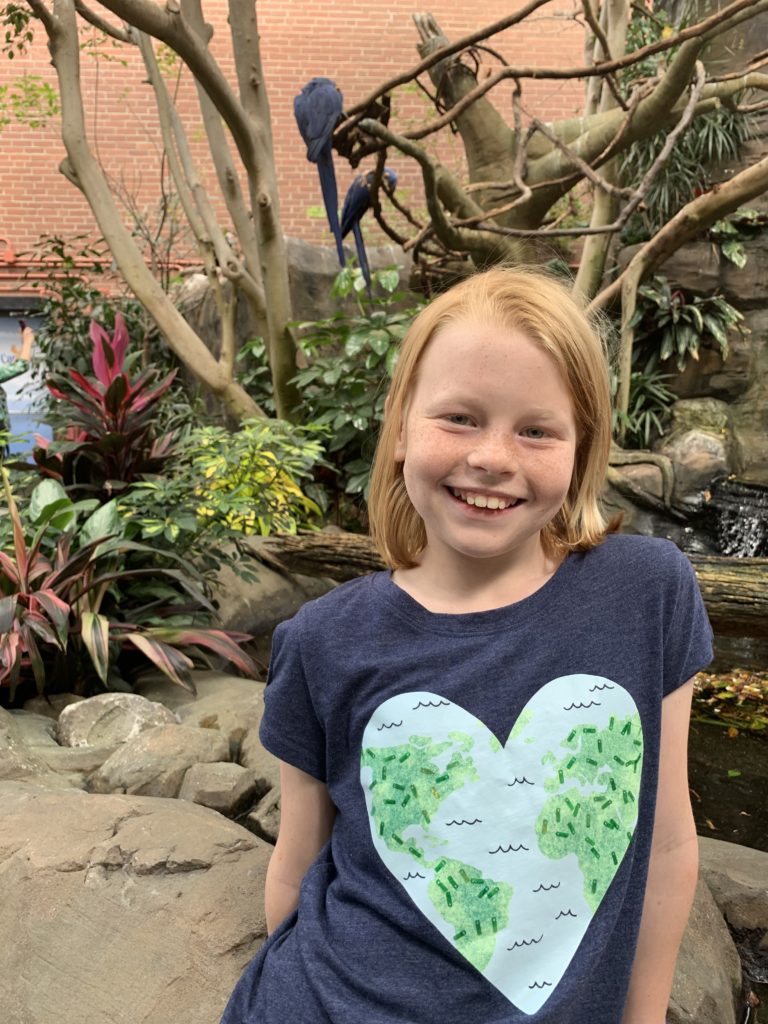 Her eleventh birthday, like Sam's, fell on a Sunday this year so we went out for her Special Day the Friday before. Most of the day was spent at the bowling alley . . . which has turned into way more than a bowling alley! Of course, the day must be started off with some doughnuts.
After we bowled a few games (Lydia beat us in two out of three) we had some fun in their arcade and zip line room.
And we must have a crazy milkshake! Another Special Day tradition.
Lydia still has a thing for horses, so we must make sure she stays well-supplied.
Speaking of horses . . .

Horse Party!!!
And now we are in the middle of summer. It is hot outside, y'all.
Soon enough though, we will be getting ready for the beach again. And after that . . . October!
Then perhaps we will enjoy a few cooler days. We will need them — soccer season will be upon us again!
Then good lord! Christmas!
Then before I know it, it will be spring and the birthdays will come around again, faster than I always expect them to be.
And that's just the stuff that I know is going to happen. Just think about all the surprises that wait in store! Ohh, the suspense!